THE DAY HAS DAWNED: Sunday, September 27, and like a tidal wave spreading across the country, our buses (yes, plural, it seems half the town is going) are en route to Croke Park. Stand by for an endless supply of shout-outs (or should that be shouts-out?); celebrity selfies; famous background selfies; and – hopefully – sightings on the telly box. More anon…
UPDATE, September 1, 2015: Our submission was successful – Croke Park here we come, Sunday, September 27. News has just broken in last hour so we are still waiting on further details.
The full list of clubs is Carryduff, Down; Corofin, Galway; Ballinrobe, Mayo; Blessington, Wicklow; Na Fianna,
Dublin; Grattan, Longford.
Our submission is here:
Dear Ladies Gaelic Football Association,
We note with interest your call-to-arms HERE that will result in some clubs like ours playing or officiating during the TG4 Ladies Gaelic All-Ireland finals day in Croke Park on Sunday, September 27th, 2015.
Well, this is one occasion when we really do want the right result.
Why us?
We are one of the youngest clubs in Ireland – but though we are young, we are very serious about having fun playing football.
We were formed in May 2015, as THIS REPORT shows. Ballinrobe GAA Club had prioritised ladies football  in the COACHING PLAN launched last year.
We invited young and old to our FIRST MATCH – and we TOLD THE WORLD about it afterwards.
Actually, we are a newly-reformed club, if you get our drift. There was a club in Ballinrobe up to about ten years ago – the local Community School won loads of All-Ireland junior and senior titles too – but we are the leaders of the new revolution.
And we love it!
We train every Wednesday evening and Saturday morning. Our numbers are growing every week. Last year, when we trialled it, we had only ten girls regularly playing: now we have 50! Just this week, three new players came along. The more the merrier is what we say.
The younger ones train with the boys. This is called the Robe Rockets section. Read about these speedy Rockets HERE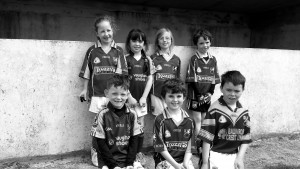 The older ones go it alone. We are fully integrated into Ballinrobe GAA Club – ni neart go cur le chéile, we say. Together we can do great things.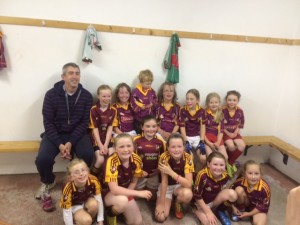 We play because we love football. We enjoy being with our friends. Flanagan Park on a Wednesday and a Saturday is where we are at our happiest. You can see all we have done HERE in our own section on the Ballinrobe GAA Club website.
Already we have taken a TRIP OUTSIDE MAYO, held a pizza evening, and brought our brothers, sisters, fathers, mothers, grandmothers, grandfathers, uncles, aunts and countless more besides to see us play on DEBUT DAY.
We promote our club extensively in the local media and on Twitter and Facebook. We take photos of everything and know that we are compiling a history of our club, training by training, game by game, photo by photo, article by article.
So, we think we've been good all year. You know who has been naughty and who has been nice – and we've been nice. We watch all the ladies football games on TG4 (mo bhrón, mo bhrón, Maigh Eo lost to Kerry last weekend – so it's more important than ever that we get to represent our great county on All-Ireland final day.)
We are not even one year old yet: we could be the youngest ever to play in Croke Park.
Claire says: let's do this. Holly says: bring it on. Ailbhe says: go Robe! Sarah says: It's our time. Amy says: who's going to stop us?
Here are Laura and Aleesha – they, too, hope to be in Croke Park on All-Ireland final day.
Audio clip: Adobe Flash Player (version 9 or above) is required to play this audio clip. Download the latest version here. You also need to have JavaScript enabled in your browser.
So, that's us, go 'Robe, Croke Park here we come.