By Ann Cannon, PRO, Ladies Football
We have two weeks training outside behind us already and are now coming to the first of our Grading League matches on Monday next, March 28th at 6pm in Flanagan Park.
Please take note of the table below with the dates of all the upcoming fixtures.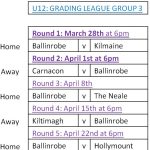 We would love for as many parents/guardians to stay for the matches if possible and support our young ladies.
Please note that it is the policy of Ballinrobe GAA Club to have all children dropped off and picked up at the dressing rooms for both outdoor training and matches.  This is to ensure the safety of all our players. Children are not permitted to walk to car park on their own.
As always, gumshields are mandatory.
The coaches for the U12 team are Declan O'Loughlin, Elaine Tracey and Terry Duddy. We always welcome help so if you can spare some time and are interested in helping out please let us know.