By Annette Conway, PRO Robe Rockets
Our U10 Boys Autumn Pella League on Friday 20th October in the Lakeside Sports and Fitness Centre. There is a charge of €10 to cover the 6-week court rental payable on arrival on Friday 20th.
Please consult team sheet and schedule to determine what time your son will be playing each week.
Each team has been assigned a coach to nurture team identity and encourage a consistent coaching message week on week.
Player drop off and collection:
Players please arrive 10 minutes before kick-off time. After the match players will be ready to be collected 40 minutes later. Players are not allowed upstairs to viewing area without a Parent, no exception. We would be grateful for your cooperation with this matter.
Games must start and finish on time to facilitate the four games in the allotted two hours. Therefore, having dropped your son 10 minutes before scheduled kick-off, he will be ready for pick-up 40 minutes later.
If your son cannot attend on any day please text Des (087 6899444) so that we can arrange a substitute if necessary.
Runners and gum shields mandatory.
Pella Teams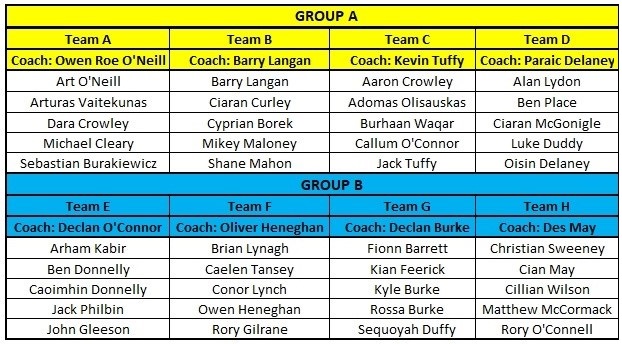 Please contact Des (087 6899444) ASAP if:
– your son is included in a team but does not wish to play in the league
or
– your son has not been included in the teams shown but wishes to play
Schedule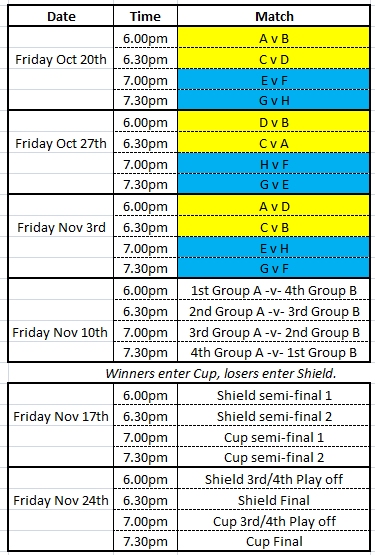 Rules
Gum shields & runners must be worn.
Scoring: 3 points for a win, 2 points for a draw, 1 point for losing by three or less points. In the event of a tie, final placings will be determined by total goals scored.
5-aside or 4-a-side games – to be agreed between coaches before each game. If 4-a-side, substitutions made regularly to ensure all players play an equal length of time.
If any team has less than 4 players a temporary substitution from another team will be made if possible. This may not always be possible so please make every effort to attend each week – your team needs you.
Matches will be 12 minutes a side with a two-minute half time break.
Gaelic football rules apply for pick-up, hand-pass, movement with the ball, etc.\
A player is allowed two solos or a solo and a hop before they must pass or shoot.
A player may score with a kick for three points or a hand-pass for one point.
A player must be in the opposition's half to score.
The ball may hit the side wall without penalty.
If an attacking player hits the ball against the end wall, the defending team gains possession and re-starts the game from under their goal. Before the re-start no attacking, player is allowed inside the blue semi-circle zone. If a defending player hits the ball off the end wall, the attacking team gains possession at Centre court.
When a free is called the defending player must step back 5 paces from the free taker.
A defender may block a player or attempt to strike the ball from his hands but no tackling allowed – i.e. no grabbing, pushing or striking an opposing player to any degree.
A player guilty of persistent fouling or dangerous play will be sin binned for 3 minutes.
Venue: Lakeside Sports & Fitness Club, Station Road, Ballinrobe.
Players should arrive 10 minutes before the kick-off time for their match indicated on the schedule above. Please make every effort to be early to allow us organise the teams and ensure the players do not lose any playing time.