By Annette Conway, PRO Robe Rockets
Des May, U10 Coach provides a detailed report on the Semi Finals of U10 Boys Pella League.
"5 weeks, 10 hours of excitement, 20 games, 42 players and 214 goals – I'm exhausted just typing it. What a tournament it's been. The final pairings have been decided but it's fair to say all eight teams could have reached the final – of the 20 games so far, 5 were drawn and 12 won by two or less goals. It's been a very competitive and entertaining league and all the players deserve great credit for their effort, their enthusiasm and their skill – I hope they have enjoyed it and grown in confidence in their abilities.  Please consult the schedule attached to see what time each team is playing on Friday. Thank you to everyone for your cooperation during the league".
U10's boys will be starting training outdoors on Friday 25th March at 7pm.
Match Schedule 18th March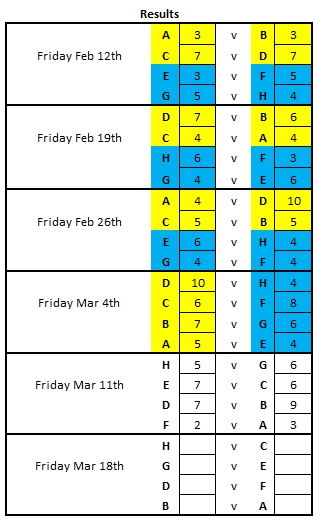 U10 Pella Teams 2016

Team A
Team C
Team E

Team F