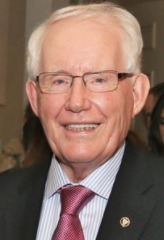 Yesterday (15 February 2022) the locality of Ballinrobe learned of the sudden passing of Billy Horan. Billy was much loved within the community and will be sorely missed.
Billy Horan was born in Partry and was the eldest of 6. He was educated in St Jarlath's College, Tuam, and UCG (now NUIG) and went on to complete a H Dip. After teaching briefly in Ballygar, Co. Galway, he spent the remainder of his career in Ballinrobe, first in the CBS from the early 1950's and then the Community School when it opened in 1990. When teaching in the CBS he promoted Gaelic football and was involved in coaching teams in the Colleran Cup and Flanagan Cup competitions. English, History and Latin were his subjects and he engendered a love of the written and spoken word among his pupils, some of whom went on to become reporters and many more to become teachers.
GAA
Billy's love of Gaelic football started from a very young age and his father (Joe) won an All Ireland Junior Football medal with Mayo.
He was involved in Ballinrobe GAA Club from the very start of his time in Ballinrobe. He played corner-back for Ballinrobe in the South Mayo Junior Championship. From an early age, he was involved in the coaching teams. Throughout the course of his involvement in the club, he was Chairman, Secretary, County Board delegate, South Board delegate, Public Relations Officer (a post he held for many decades) and Scor Officer, He was heavily involved in the committee that bought and developed Flanagan Park in the early 1960's. He was also involved in Ballinrobe GAA Club fundraising through the weekly bingo in the old Town Hall and various other initiatives. Billy was President of the Club and only stood down as President at our AGM last November. Just last month, the club marked his retirement from the position with a special presentation at the launch of our five-year Strategic Development Plan.
Billy served as Chair of South Mayo GAA Board and was PRO of the South Mayo GAA Board for several decades. He also served as President of Mayo GAA.
Billy was deeply involved in, and had a great grá for, scór in our club. He was also involved in Scór at divisional, county and provincial levels. Ballinrobe were very strong in Scór in the 1970s and 1980s, particularly in set dancing and Question Time, and in fact he competed with success in Question Time for Ballinrobe. Billy had a great belief in preserving Gaelic traditions though, as a Latin scholar and noted teacher, he had broad interests.
He was also a selector for the Mayo Junior team for a time and also served as a referee for a period.
Billy was recognised by Mayo GAA / The Green Above the Red Trust and by the GAA nationally with a President's Award for his dedication to the GAA.
"Billy and the Horan Family have been synonymous with Ballinrobe GAA Club. Only a few short weeks ago we made a presentation to Billy to honour his long and loyal contributions to our Club. We will miss his wisdom, advice and leadership, but above all we mourn the passing of a good man whose integrity and vision leaves a strong legacy for us and the next generation of GAA members, a true Gael," said John Flannelly, Club Chairman.
Reporting
Billy started writing the Ballinrobe Notes in Mayo News in 1952. His philosophy was that "a key part of games is promoting games" and that was how he got involved in reporting on matches for all the local papers and being PRO for Ballinrobe GAA Club. Long before match reporting became such a staple element of the local papers, Billy was an assidious chronicler of matches. And not just Ballinrobe games, but at all levels, from south Mayo up to national level.
The first time a lot of young people got their names in the paper was either in Billy's local notes or match reports. Many of those players went on to play for Mayo, the likes of Vincent Nally (Garrymore) and our own Tommy O'Malley, Peter Ford and Fergal Costello, to name but a few. He was unbiased in his match reports and was very well regarded throughout Mayo for that attribute.
Billy did insert pieces for Ballinrobe GAA Club – Club Radio and while a talented reporter, he shied away from broadcasting unless press-ganged into action. He chronicled both Ballinrobe GAA Club tours to London.
While his primary interest was the GAA, he was very good at promoting and reporting on other sports in the locality. Ultimately, the people of Ballinrobe and south Mayo mattered greatly to him, and he afforded coverage to all sorts of sporting, cultural and community events.
His Balinrobe Notes for Ballinrobe are in this week's Mayo News and on Monday, the day before his sad passing he submitted his notes for the Connacht Tribune, which included some GAA Notes.
Other interests
He loved music, in particular country music, and was an avid radio fan, listening to radio and picking up match commentaries, reports and inteviews from around the country through internet radio. He loved local radio in Mayo and around the country and followed GAA where people he know were involved very closely.
He watched football religiously, and right up to last weekend was watching with great interest the televised National Football League matches. Billy loved horse racing and followed it closely. He was a member of the Ballinrobe Race Committee and thrilled to the buzz of the Racecourse on Raceday, meeting and conversing with trainers and jockeys. He didn't bet much, but on occasion, after watching a horse that caught his attention over 7 or 8 race meets, he'd have a calculated flutter, often with spectacular success though the wager might be modest.
Billy was also involved in the old Ballinrobe Town Hall, Ballinrobe Active Retirement Association, the Town Development Company and the campaign to build An Sportlann, now the Lakeside Sports and Fitness Centre and the running of it in its early years
Billy enjoyed largely good health right 'till the very end. His passing leaves a sadness in the whole community as is evident by the messages received by his family since his passing from every element of society, including his former students in Ballinrobe CBS and Ballinrobe Community School.
Ar dheis Dé go raibh a anam.