UPDATE: The video is out – well done, folks. Brilliant. And a great night at the shoot too.
The fast-growing-in-popularity Quality Street are more or less the musical wing of Ballinrobe GAA club. Three of our own and one from out the road.
Martin Farragher and Iron Mike Ansbro have both played with the club for many years, though Iron Mike seems to have gone into what we hope is temporary retirement since Quality Street started to shoot the stars out.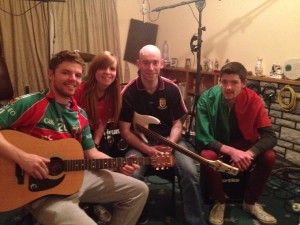 Ailise Burke is there too and she played for Ballinrobe in her younger days, and she now plays for The Neale, given that we don't have a ladies team anymore in Ballinrobe. She is daughter of Billy 'put down an egg for ya' Burke, who played with Ballinrobe for about 30 years, and managed to look younger at the end of it all.
Gerry Heneghan is the fourth member of the band. He's from Partry. That'd make him a Tourmakeady man for GAA purposes.
But, right now, we're all the one: Green & Red.
Here's an interesting note we got from Quality Street today about a recording they're making tomorrow evening here in Ballinrobe, sound fascinating. See you there. Treat is as your first real All-Ireland warm-up (oh, boy, will we ever get through the next fortnight of anticipation…):
"Right guys we've decided to make a video to support the Mayo team. We've recorded our Mayo song and we want to make a video this Friday involving everyone! Basically we would love if you could all make it down to the Water towers in Ballinrobe (beside the cycling club) on Friday at 8pm.
Bring everyone and anyone. Your granddad, your nephew, your 2nd cousin once removed, your mother, great grandchildren, anyone at all. It'll be a bit of craic and it will be a good way to support the team. We're also going to play a few songs down there. Wear a jersey if you have one and bring flags, posters and anything 'Mayo'
Also we have a bit of a competition for the kids so be sure to bring them along. We have a football sponsored by Vaughans Shoes and it's signed by our very own Donal Vaughan! The best poster or sign wins it!
We hope to see a load of you at it. The more people in the video the better."
By the way, lads, there's a junior game Saturday v Parke-Keelogues-Crimlon, so easy on the all-night apres-party lark. It might even be Iron Mike's comeback girl, sorry gig: 'Comeback Girl' was a song by the Republic of Loose, wasn't it? Anyway, we're on the Quality of Street now and worrying only about the Republic of Sam.