UPDATE, OCTOBER 31, Results & Table: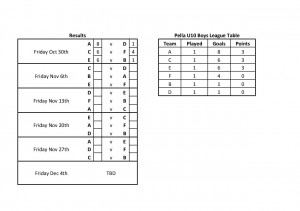 Our new Pella Indoor League is the talk of the town this week – it starts on Friday night next, October 30. This fulfils one of the key planks of our coaching plan, namely to play football virtually all year round.
Venue: Lakeside Sports & Fitness Club, Station Road, Ballinrobe.
Players should arrive 10 minutes before the kick-off time for their match indicated on the schedule above. Matches will be 10 minutes a side with a half time break.
Allowing for delays, players should be available for collection 30 minutes after kick-off time.
€10 for rental of the hall to be paid on Friday 30th October.
Des May, one of the organisers, has put together this info sheet (click to enlarge):