By Ann Cannon, PRO, Ladies Football
Week two saw some more great games with some fantastic skills on show.
Some of our teams have had late player withdrawals from their team and have struggled as a result. We hope to have replacements for these teams soon.
Teams D and E have continued on their great start and top the table after week two.  Team B had their first win and team C suffered their first loss while team F got their first points.
Team A was without two players last week and had one of those games when no matter how hard they tried, the ball would just not go in the goal.
Well done to everyone.  Remember, teamwork, pass and move.
Results Week 2
Team E:  6 pts      Team F:  3 pts
Team B: 12 pts     Team A:  3 pts
Team C:  4 pts      Team D:  9 pts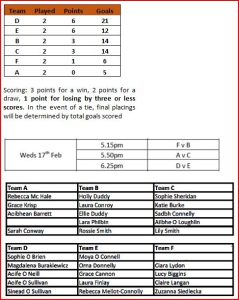 Please have the girls arrive 10 minutes before their playing time so they can be warmed up.
Gumshields are mandatory and the players should bring a drink of water.
Any questions call Declan on 087 2063863 or Mary on 087 2347438.