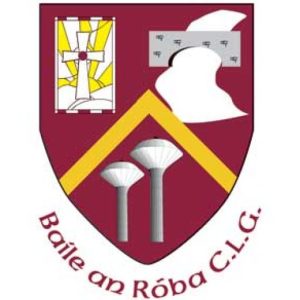 BALLINROBE GAA CLUB COACHING AND DEVELOPMENT PORTAL
Ballinrobe GAA Club's commitment is to teach, develop, organise, manage and offer youth players the opportunity to learn the fundamental skills of football while instilling values such as character, team work, discipline, respect and sportsmanship.
This Resource page is to support you, the coach, to enable you to deliver a fun, enjoyable training session in the right way. There are sections on Policies & Procedures as well as a Library for Printable Documents you may wish to have hard copies of.
If you interested in joining the Coaching Team please contact the Coaching Officer Colm Jennings (0879316302) or Tom Carney (0863216992). There is a learning path for coaches of all ages, regardless of ability or knowledge: http://learning.gaa.ie/CoachEducationProgramme
COACHING RESOURCES:
Guidelines for Appropriate & Safe Training for Gaelic Games;
Fundamental Movement Skills – ABC : Tutorial videos that demonstrate the ABC of movement. Ideal for warm-ups for 4-8 yrs old players.
Basic Motor Skills (Have a Ball) gives an introduction for 4-8 yrs old players on sports specific skills for football:
http://learning.gaa.ie/HaveABall
GAA Football skills – The Basics of Football that show you how to coach the players to develop these fundamental skills:
http://learning.gaa.ie/footballskills
GAA Session Planner: A library of drills/skills to help plan your sessions to allow players perfect skills from 4 yrs old to Adult(18+):
http://learning.gaa.ie/planner/
LGFA Skills Cards that break down skill and tell you what to look out for:
http://learning.gaa.ie/LGFASkills
GAA 15 – Injury Prevention Warm-up Programme:
http://learning.gaa.ie/gaelic15
GAA Player Pathway:
http://learning.gaa.ie/playerpathway
GAA Principles of Training:
http://learning.gaa.ie/PrinciplesofTraining
GAA Coach 10/MVA Model – video explains the GAA Coach10/MVA model for effective coaching:
http://learning.gaa.ie/coach10
POLICIES & PROCEDURES:
GAA Rules & Regulations:
http://www.gaa.ie/the-gaa/rules-regulations/
GAA Code of Behaviour (Underage):
https://res.cloudinary.com/dvrbaruzq/image/upload/ukepuvlq3qhyie10jfqy.pdf
Children 1st Act Information & Guidance:
https://www.gaa.ie/the-gaa/child-welfare-and-protection/
GAA Anti Bullying Policy:
https://www.gaa.ie/the-gaa/child-welfare-and-protection/tackling-bullying
GAA Rules of Communication with Players (Youth):
https://www.gaa.ie/the-gaa/child-welfare-and-protection/contacting-underage-players
GAA Player Safety – Mouthguards, Concussion Management:
http://www.gaa.ie/my-gaa/players/player-safety
GAA Player Welfare Booklet:
http://www.gaa.ie/my-gaa/players/player-safety
GAA Community Health and Well-being:
http://www.gaa.ie/my-gaa/community-and-health/
South Mayo Referees Contact List:
LIBRARY – PRINTABLE DOCUMENTS:
GAA Fun Do Football Guide
GAA Fun Do Nursery Programme Guide
http://learning.gaa.ie/sites/default/files/NurseryResource.pdf
GO Games Recommended Rules of Football
GAA – Tobacco, Alcohol and Drug Policy and Guidelines