By Annette Conway, PRO Robe Rockets
Our Robe Rockets training kicks off with the start of the Boys U10 Pella League on Friday 17th February in the Lakeside Sports and Fitness Centre. There is a charge of €12 to cover the 6 week court rental payable on arrival on Friday 17th.
Please consult team sheet and schedule to determine what time your son will be playing each week.
Each team has been assigned a coach to nurture team identity and encourage a consistent coaching message week on week.
Player drop off and collection:
Players please arrive 10 minutes before kick-off time and go to the Racquetball court . After the match players will be ready to be collected 40 minutes later from the Racquetball court.. Players are not allowed upstairs to viewing area without a Parent, no exception. We would be grateful for your cooperation with this matter. Games have to start and finish on time to facilitate the four games in the allotted two hours.
If your son cannot attend on any day please text Des (087 6899444) so that we can arrange a substitute if necessary.
Runners and gum shields mandatory.
Pella Teams
Please contact Des (087 6899444) ASAP if:
– your son is included in a team but does not wish to play in the league
or
– your son has not been included in the teams shown but wishes to play.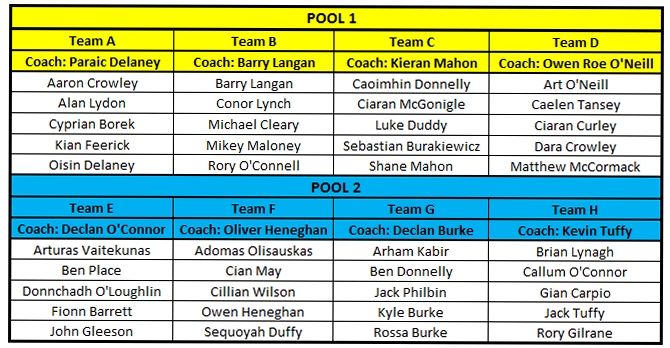 Schedule