'New goals and aspirations' as Ballinrobe GAA Clublaunches its five-year plan
Past glories, current hopes, and future aspirations all blended together on Saturday night last (January 29th), as Ballinrobe GAA Club celebrated the launch of its Strategic Development Plan 2021-2025. You can view the plan HERE
Delayed in its finalisation due to COVID-19, the plan was finally unveiled at the first formal indoor gathering of club members in almost two years, at Ballinrobe Racecourse. The chairperson of the Steering Committee that oversaw the development of the plan, Denise Horan, remarked that the lifting of COVID restrictions provided the ideal backdrop to the launch of the plan.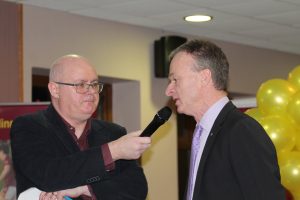 "Its a time of joy and hope – a perfect time to start a new chapter in our club, to set out new goals and aspirations," she said.
Developed over an 18-month period by five sub-committees led by chairpersons Colm Jennings, Declan O'Loughlin, Donal McCormack, Paul McElarney, Mike Finnerty and Elaine O'Donnell, the plan sets out ambitions across all areas of the club, from coaching and games development, to finance and fundraising, and facilities development.
Though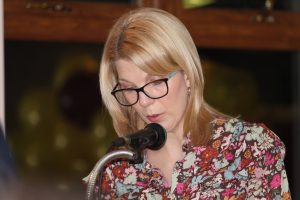 the 'thinking, research and consideration of ideas was broad and deep', Denise Horan noted, a deliberate decision was made to condense the initial long list of recommendations to a set that was 'small, but meaningful; aspirational, but clear and simple'. The 24 final recommendations that made the plan reflect this considered approach.
The event, hosted by Liam Horan and broadcast live to over 400 followers on the club's Facebook page, traced the proud history of the club from its early days (recalled memorably byclub historian Mike Coyne), through to its successes of last year, in boys' and ladies' underage competitions. Newly-appointed intermediate team manager – and former Mayo full-back – Peter Ford,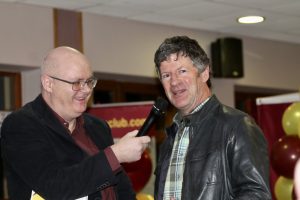 a native of Ballinrobe, also spoke, recalling his playing days with the club, the highs of his previous stint as manager over 20 years ago and his excitement about the season ahead.
"I wasn't involved with any team last year and I wasn't sure if I wanted to be again. But when I was approached about the Ballinrobe job and when I started having conversations with some of the guys involved, it was like a drug that took hold again," he said.
The long and loyal service of club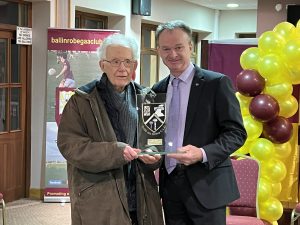 stalwart Billy Horan – who recently marked 70 years covering Gaelic games for the local papers – was also recognised on the night, with club chairman John Flannelly making a special presentation to a man who 'has been a leader within the club since the 1950s – as player, coach, chairman, PRO, President and South and County Board delegate'.
Encouraging everyone to get behind the new club plan, John highlighted that there is 'a role for everyone in Ballinrobe GAA Club'.
"Sometimes people think they have nothing to contribute, but there is something everyone can do. No matter how small it seems, it all matters because it takes the whole community to keep the club going," he said.
Entertainment was provided in the form of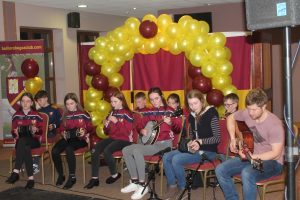 traditional music and sean-nós dancing, ably performed by underage club members Rachel Gallagher, Ethan Tierney, Roisin and Katie Yates, Jamie and Billy Donnellan and Aoibhinn and Caitlin Cummins, under the tutelage of Chloe Feeney of the Chloe Feeney School of Music